Reminders hack: Things 3-inspired tagging shortcuts (macOS)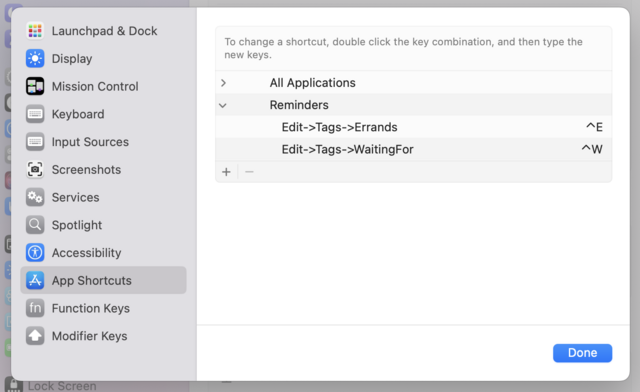 During the iOS 16 betas, I switched my entire tasks system to Reminders. I had no work activities due to a burn-out, and Things 3 just seemed too overkill for what I needed at the time.
Things 3 has a great solution to add a tag: use the ctrl key with any other keyboard character, and your task will get the accompanying tag. For instance, ctrl-e will add Errands to what you've selected.
And then I noticed Reminders can do this too! But it takes more steps to set up. If you're familiar with setting keyboard shortcuts in System Settings, you'll know the drill.
Steps
Go to your System Settings app, go to Keyboard, and go to Keyboard Shortcuts.
Go to App Shortcuts and click to add a new shortcut.
Select Reminders from the dropdown menu.
Enter Edit->Tags-> and type the tag name you want to use. For instance, Edit->Tags->Errands. 1
Enter your desired keyboard shortcut. I chose ctrl-e.
To try it out, go to Reminders and select a task to tag. Smash that keyboard shortcut. Enjoy your leveled-up productivity!
---
If you're using a different system language, you need to use the localised menu items here.↩︎